To begin, let us return once again to Earth's primordial unfolding.
As we saw in Earth's stellar story, our solar system's planets formed five billion years ago as interstellar debris steadily swirled together. This coalescence of matter into planet Earth is in fact a process that has never ceased.
On our planet meteors continue to fall; geology, atmosphere and ocean all continue to spin and spiral– ever churned by the ever arriving blaze of the sun. As on all planets.⁸¹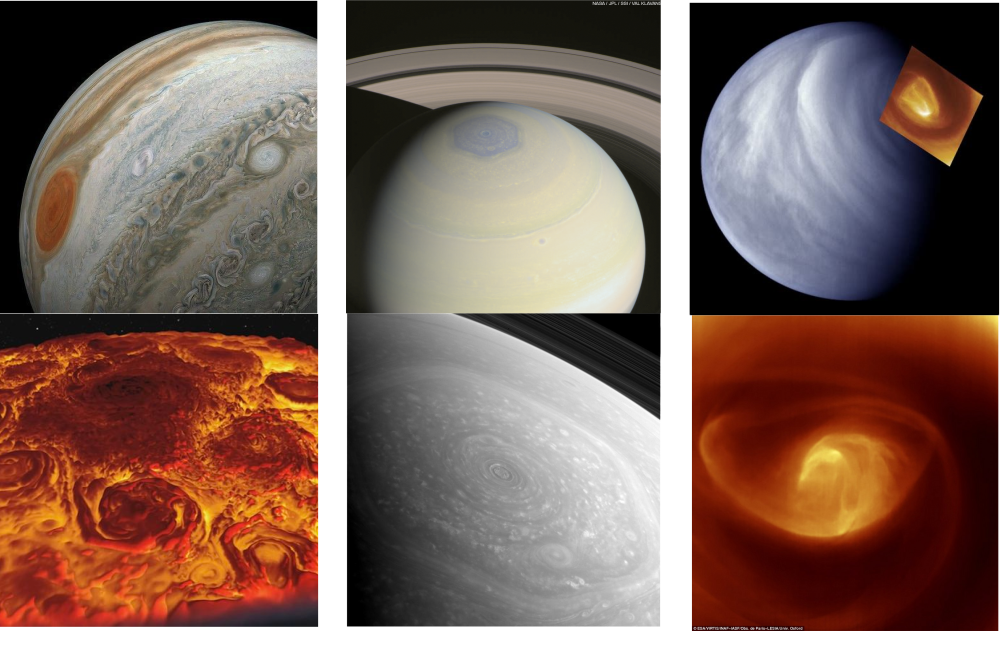 However, on each planet, the way that its matter churns is always unique to it.
On Venus, Jupiter and Saturn, the prevalence of certain principal elements— sulfur, hydrogen and helium— dominate and determinine the character of their spirals. From Venus's sulfuric acid dipole vortexes, to Jupiters' polygonal vortex patterns of hydrogen and helium, to Saturn's hexagonal hydrogen polar vortex, the way each planet spirals its primary elements is a direct reflection of its unique configuration of orbit, spin, chemistry, magnetosphere, mass, momentum and more. Consequently, vortexes unfold with their own unique geometric character (see Figure 1).
Meanwhile, our planet's unique combination of carbon, oxygen and hydrogen have been continuously churned by the ever arriving blaze of the sun. The systemic cycles that result spin with their own charateristic Earthen spiral.
As we saw in Earth's stellar story, the thermodynaic imperative of dissipation, compelled its carbon to come together into more and more complex systems. Steadily, as early systems unfurled, they gathered the abundant loose carbon from the atmosphere to unfold ever more effective energetic cycles and material forms out the readily available elements.
Organisms such as cells, plants and the ammonite!
But also, just like trees, fish and fungi. Steadily, as generations of mollusks, plants, fungi animals and insects lived and died, the matter that they had concentrated into their forms fell to the ground. Steadily, layer upon layer of fallen life, was covered up by the fall of the next.
Although these organisms all added carbon into the air through their exhalations, with each cycle of life and death, they tended to concentrate more carbon into themselves than they let out loose.  Over hundreds of millions of years, the inexorable accumulation of these ancient organisms became compacted deep underground. In the case of the ammonite, as more and more of their carbonate shells, bodies and excretions fell downwards, it meant that more and more carbon was being effectively subtracted from the waters. This in turn enabled the ocean's to absorb more carbon dioxide from the atmosphere above.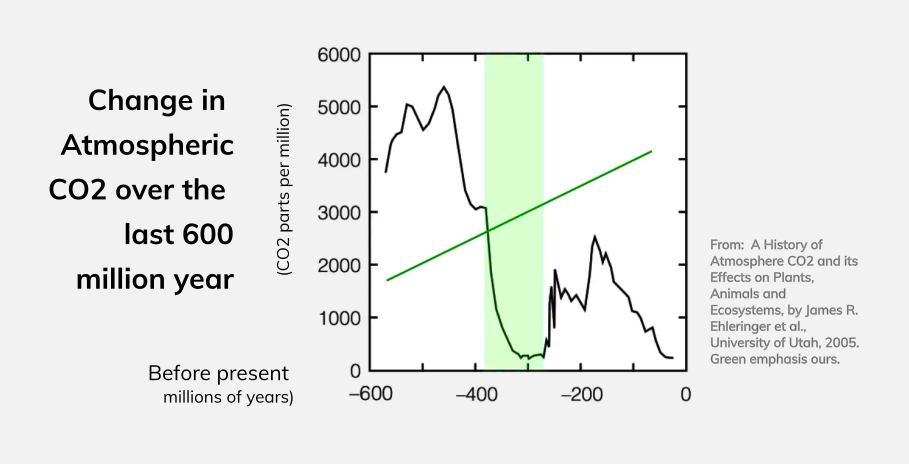 With the life cycles of innumerable organisms systematically subtracting more carbon than they added, soon vast quantities were stored out of the atmosphere and into geological storage. With so much carbon sequestered into geological storage, the carbon content of Earth's oceans reduced. This enabled the oceans to absorb more of the planet's atmospheric carbon-- leading into a decline in ocean acicity and atmospheric green-house effects.
And even more life was able to flourish!
This dynamic of matter management can be found in kincentric cultures and cyclocentric nations around the world (see our definition of the term cyclocentic in Chapter 5)
As we saw in our earlier chapter, the lives of the Igorot people of Northern Luzon are guided by their ayyew ecological ethos. This ethos inspired the way that the Igorots managed the matter that passed through their hands and bodies. From farming, to eating; from discarding, to defecating, the way in the Igorots embodied ayyew in their process resulted not in "waste" (there is no such concept in the Igorot language⁸³ but in "logits" (or, roughly translated "fertilizer").
Each Igorot household home had a lomeng— a submerged enclosure where the household's pig was kept. However, these were much more than pig pens. Lomeng were used to discard everthing from overcooked rice, grass clippings. They were also used as a toilet. The pigs would consume almost everything given to them. They would grow fat and provide rich manure to fertilize the families gardens and fields— essentially concentrating the various forms of carbon biomass given to them into even more concentrated and nutrient rich biomass.
Over, countless lifecycles of crops, pigs and humans this process lead to the steadily concentration of carbon, nitogen and phosphos— the prinpal elements of their ecosystem— back into the soil. This lead to ever more fertile fields and healthy and well nourished Igorot communities.
As we strive to ensure our human enterprises are green, non-waste-way of the Igorots points us towards our third Earthen ethic.
Just as the Earth tended it's cycles towards the inward spiral of matter, so must we intend and achieve the same with our own. Only when the intention and the result of our cycles is the net concentration of their active elements, are we following Earth's pattern. Only then is the third Earthen ethic met. Only then can our acts and enterprises be considered ecological contributions— and green.
This third earthen ethic provides a geometric means of evaluating the management of matter within our human processes. It applies to the principal elements used in any of our processes— but most notably to our usage of carbon.
Perhaps the most tangible example of our modern use of carbon, is of our plastic. As we saw in Plastic's Stellar story, plastic was at first a by-product of the refinement of petroleum to make fuels. Having originated from a concentrated form under the earth to be dispersed over the surface of the planet, we can clearly observe that the outwards spin of plastic industrial cycles is contrary to the inward spiral of the Earth's.
Today, to be green modern enterprises attempt to mitigate this outward spiral of inevitable pollution with goals such as "net-zero" and "zero-waste".
In so far as these goals seek to reduce and balance the outputs of our process to zero, they are a step in the right direction. However, within the context of Earthen system, we can now see that they are geometrically flawed.
No matter how much a system may reduce its carbon emissions, no matter how much a system may reduce its waste output, if these systems still have a net carbon emission or a net waste output, no matter how small, the system fails to folow Earth's example. Afterall, these emissions or wastes indicates the system's outward spiral geometry. And after many cycles and many replications, any seemingly small amount will inevitably compound into overwhelming significance: pollution and contimination.
Just the opposite happens in Igorot systems: once the nutrient energy of the matter that passed through their hands had been extrated, the principal elements tended to be returned to the cycles of life in a denser form than before. With the rice plants extracting loose carbon from the air, condensing it in to rice, and Igorot cultivation continuing the downward spiral into further concentration, steadily more and more carbon, phosoforus, nitrogen and other elements are sequestered into biomass and into the soil itself making it more feritle and rich.
As we develop enterprises, technologies and industries to be green, the requisite geometry by which they must manage their matter is clear.
Whether the process's primary element is carbon or calcium, lithium or silicone, the process must embody the third Earthen Ethic.
First, the process must accumulate its principal elements. Second, the cycle of the process must concentrate these elements. Third, the spiral of these cycles must then lead to the net-subtraction of the element and tend, over the long-term, to its sequestration.
Circular, for-Earth processes that can achieve this, embody both the inward spiral of their matter and the outward spiral of their energy and fulfill the first three Earthen ethics.
In so doing, the tension between their distribution of energy and their concentration of matter, unfurls through space and time.
Like those cycles of the Igorot, Salmon, Ammonite and the Earth.
In sharp contrast to the desolation that unfolded on the surfaces our fellow planets, the geometry of this Earthen double spiral has led to just the opposite:
A never ending spin towards ever more vibrant and diverse systems.
Our fourth Earthen ethic.